Audio-Codec-HAT-for-Raspberry-Pi
From SB-Components Wiki
Audio Codec Hat for Raspberry Pi
Audio Codec HAT is a low-power, high-quality stereo CODEC designed for portable digital audio applications which are based on WM8960 IC that have the advantages like Low leakage, excellent PSRR, and pop/click suppression mechanisms that allow direct battery connection to the speaker supply. Flexible speaker boost settings allow speaker output power to be maximized while minimizing another analog supply current.
Features
Low Power Consumption
Stereo Encoding/Decoding
Dual-Channel Speaker Interface
Hi-Fi Playing/Recording
Onboard 3.5mm Jack
Specifications
Codec Module - WM8960
Onboard - 3.5 mm Jack, Dual Channel Speaker Interface
Power Supply - 5V
Logic Voltage - 3.3V
Earphone Drive - 40MW (16Ω @3.3V)
Communication Interface - I2C
Audio Interface - I2S
Speaker Driver - 1W Per Channel (8Ω BTL )
Pinouts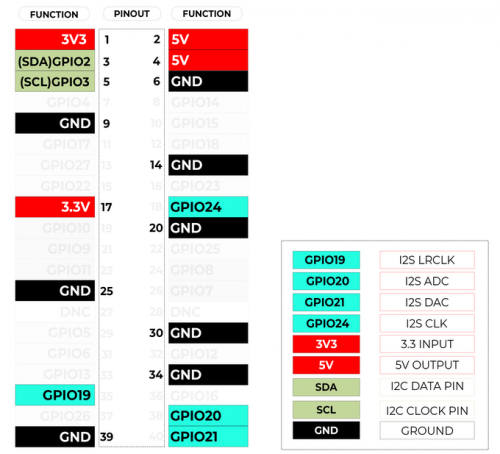 Installation
git clone https://github.com/sbcshop/Audio-Codec-Hat-for-Raspberry-Pi
Go to below directory to Install the driver (follow steps)
cd Audio-Codec-Hat-for-Raspberry-Pi
sudo chmod 777 *
sudo ./install.sh
After installation reboot raspberry pi

sudo reboot

Perform the following command to restart the service if the 3.5mm jack has no audio output.
sudo systemctl restart wm8960-soundcard.service
If you notice a noise problem with the Audio Codec, reinstall the driver and try it again.
Mic Test
Replace *0* in *Dhw:0* with your card number, command to know card number
arecord -l
sudo arecord -f cd -Dhw:0 | aplay -Dhw:0
Resources
Github