Pi-breadboard-breakout
From SB-Components Wiki
Raspberry Pi Breadboard Breakout
Easy way to connect breadboards from Raspberry Pi by using Raspberry Pi Breadboard Breakout. It allows you to connect or plug a Raspberry Pi into a standard 2.54 mm pitch Breadboard. The Raspberry Pi Breadboard Breakout PCB is designed to connect across the middle slot of a breadboard.
Features
Supports Raspberry Pi Model A+/B+/Pi 2/Pi 3/Pi 4.
Cable plugs between the Pi A+ / B+ / Pi 2 / Pi 3 / Pi 4 computer and the breadboard breakout.
The Breadboard breakout PCB has all the pins labeled nicely so you can go forth and build circuits without keeping a pin-out printout at your desk.
No tools or soldering required for installation.
Raspberry Pi to breadboard prototyping is made easy.
Specifications
63mm x 20mm x 11mm / 2.5" x 0.8" x 0.4"
Height with pins: 20mm / 0.8"
Weight: 12g
Installation
Take one Raspberry Pi breadboard breakout board.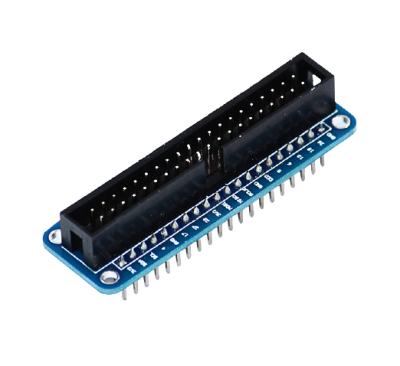 Place it on any size of a breadboard as shown below.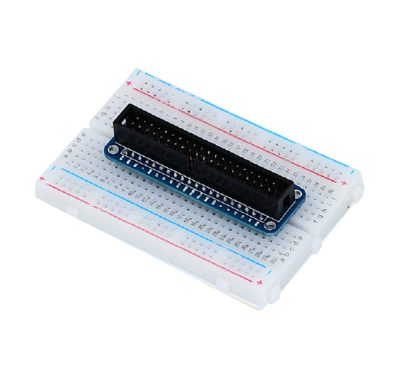 Use IDC cable to make the connection between breadboard breakout and Raspberry Pi using IDC connector.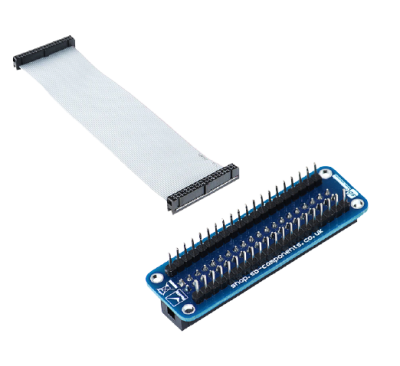 Now you can use this breadboard to place your components and develop your project with ease of connectivity using breadboard breakout.
Resources