Pi-motor-driver-hat
From SB-Components Wiki
Raspberry Pi Motor Driver HAT
Motor Driver HAT for Raspberry Pi is a module designed to control 2 DC motors simultaneously with I2C communication. It has a powerful onboard chip PCA9685 which provides 12-bit hardware PWM to adjust the motor speed. The logic voltage is 3.3 V with the motor driver TB6612FNG. It can be powered from a battery through the VIN terminal which makes a better experience for the user.
Features
Standard Raspberry Pi 40 Pin GPIO Extension Header
5V Regulator
Current up to 3A
I2C control interface with 5 address selection jumper.
I2C Controller Pins
12-bit hardware PWM For Speed Adjustment of Motor
Control 2 DC Motor Simultaneously
Specifications
Logic voltage: 3.3V
Power supply: 6V~12V (VIN terminal)
PWM driver: PCA9685
Motor driver: TB6612FNG
Control interface: I2C
Pinout
| Motor Driver HAT | BCM |
| --- | --- |
| VCC | 5V |
| GND | GND |
| SDA | GPIO 2 |
| SCL | GPIO 3 |
Installation
Stack Motor driver HAT on Raspberry Pi 40 Pin header.
Connect peripherals with Motor driver HAT as shown in below circuit diagram and turn on slider switch to turn on the Raspberry Pi.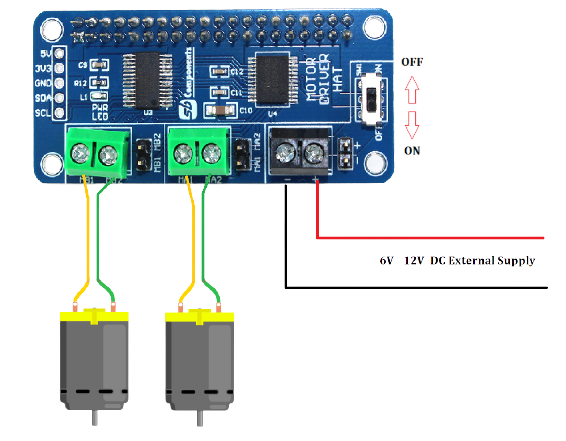 Now open the terminal and run the below command to clone the Github repository of Motor driver HAT.
git clone https://github.com/sbcshop/Motor-Driver-HAT.git
Now enter the downloaded folder by running the below command
cd Motor-Driver-HAT
Now run the "Demo.py" python file by running the below command to move motors.
python3 Demo.py
Resources
Github
Datasheet