Pico-2CH-Expander
From SB-Components Wiki
Pico 2 Channel Expander
The Pico 2CH Expander is an I/O Expansion board for the Raspberry Pi Pico that allows it to increase its engagement via two dedicated GPIO pins for the HAT or Shield. Pico 2 CH Expander is specifically designed to function as a GPIO extender, featuring two sets of two x 20 pin headers for use with HATs or Breadboards.
Features
Standard 40 Pin Raspberry Pi Pico connectivity for easy and effective connections
2 Sets of 2 x 20 Headers, for Multi HAT connectivity
Clear and Descriptive Pin labels for better understanding of connection points
Specifications
Connector for HAT - Male Header Pins
Compatibility - Any Raspberry Pi Pico HAT/Shield
Installation
Take Raspberry Pi Pico 2 CH Expander.


Stack Raspberry Pi Pico on 40 pins female header of Raspberry PiPico 2 CH Expander as shown in the picture below.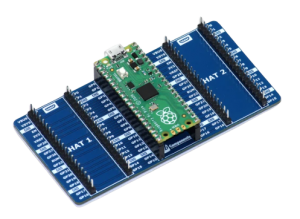 Now you can connect any Pico compatible HAT's or peripherals or breadboard circuits with the Raspberry Pi Pico 2 CH Expander.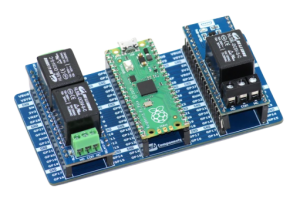 Note: In the case of utilization of HAT, the USB mark of the HAT should be aligned with the Pico 2 CH Expander.
Resources