Pico-Cube
From SB-Components Wiki
Pico Cube
Pico Cube is a 4x4x4 LED cube HAT for Raspberry Pi Pico with 5V DC operating voltage. Pico cube, a monochromatic( Red, Blue, Green) with 64 LED, is a fun way to learn programming. It is designed to perform incandescent operations with low energy consumptions, robust outlook, and easy installation that make people/kids/users learn the effects of LED lights with a different pattern of colours via the combination of software and hardware i.e. Raspberry Pi Pico.
Features
Standard 40 Pins Raspberry Pi Pico Header
GPIO Based Communication
64 High-Intensity Monochromatic LED
Individual LED access
Each Layer Access
Specifications
Operating Voltage - 5V
Colors - Red/Green/Blue
Communication - GPIO
LED - 64
Pinout
Installation
MicroPython
Stack Raspberry Pi Pico on the female header of Pico cube.
Connect USB cable on Raspberry Pi Pico USB port.
Choose interpreter as MicroPython (Raspberry Pi Pico).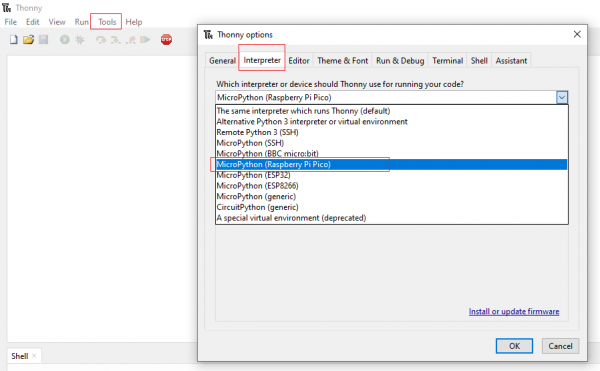 Download Pico Cube repository from the below link:
Source code: https://github.com/sbcshop/PICO-CUBE
Open "demo.py" from the downloaded repository of Pico Cube in Thonny IDE and Click on the Green play button to run the code.
It will run a different LED pattern on Pico Cube. You can also modify this code to put your own creativity.
Resources