Pico-4CH-Expander
From SB-Components Wiki
Pico 4 Channel Expander
Pico 4 CH Expander is an I/O Expansion board for the Raspberry Pi Pico that allows you to increase your engagement by using the four GPIO ports allocated to the HAT or Shield. Pico 4 CH Expander is a GPIO extender with four sets of two x 20 pin headers for use with HATs or Breadboards. It consists of the onboard USB interfacing to provide power only to board and not for data transmission.
Features
Standard Raspberry Pi Pico connectivity
4 sets of 2 x 20 Pin Male Headers
Compatible with Raspberry Pi Pico
Descriptive Pin labels
Onboard USB power port
Specifications
Connector for HAT - Male Header Pins
Compatibility - Any Raspberry Pi Pico HAT/Shield
Installation
Take Raspberry Pi Pico 4 CH Expander.


Stack Raspberry Pi Pico on 40 pins female header of Raspberry Pi Pico 4 CH Expander as shown in picture below.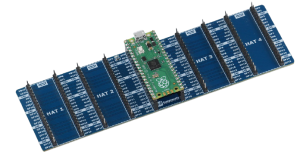 Now you can connect any Pico compatible HAT's or peripherals or breadboard circuits with the Raspberry Pi Pico 4 CH Expander. You can supply power to the expander via the onboard USB Input port.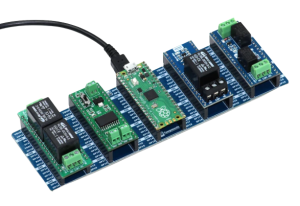 Note: In the case of utilization of HAT, the USB mark of the HAT should be aligned with the Pico 4 CH Expander.
Resources